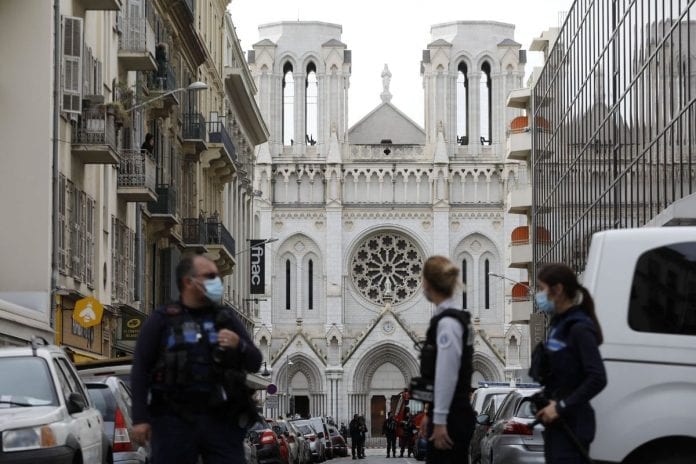 At least three people have been killed in a knife attack at the Notre Dame Basilica church in the French Riviera city of Nice.
The Islamist terrorist attack took place just days after various Muslim-majority countries protested the French President, Emmanuel Macron, for defending the publishing of cartoons that depicted the Prophet Mohammed. This comes just weeks after Samuel Paty, a high school teacher, was beheaded in a terrorist attack in Paris. The reason given for the beheading was that he too showed cartoons of Islam's Prophet, something which took place during a lesson on freedom of expression. These infamous cartoons all originated with the satirical magazine, Charlie Hebdo. After publishing a cartoon of Mohammed on the front cover, armed Islamists raided the magazine's headquarters and killed several people.
As for how this tragic event came to an end, reports note that the attacker shouted "Allahu Akbar" (God is greatest) before being shot and then apprehended. He is now receiving medical care and anti-terror prosecutors have opened a murder inquiry. France has raised its national security threat alert system to its highest level.
This hasn't changed Macron's views, he yet again issued a strong defence for freedom of speech and said France would not "give up" the caricatures. Furthermore, the French Council of the Muslim Faith strongly denounced the attack and called on French Muslims to cancel Thursday's Mawlid celebrations to mark the birthday of the Prophet Mohammed.
Although it may seem provocative, we have decided to provide the cartoon in question below, this is for no other reason than to give readers the ability to make their own mind up. We believe that free speech and free press should take priority over the demands of religious extremists. Having said this, we are aware that perfectly well-meaning Muslims may still be offended due to the inclusion of this cartoon, all we can do is apologise if that is the case.