As a well-established jeweller, GIO has been working alongside some of the biggest names in the UK music scene. However, it now looks like the entrepreneur is taking a big step into the industry himself.
Just recently, GIO dropped his track 'Hot' offering the fans of his jewellery brand a glimpse into what it's like to be one of the men at the helm.
We got the opportunity to send some questions his way, here is what he had to say...
HOW DID YOU GET INTO THE JEWELLERY BUSINESS?
I got into the jewellery business through one of my older cousins. He had a brand called ICEJEWLZ and at the time it wasn't really known. I was really interested in jewellery & didn't mind putting the work in, so I spent a lot of time helping him in the early stages and now we've established a respectable name for it. There's a lot more to come though, for what we have in mind, we're still just getting started.
WHAT PIECE ARE YOU MOST PROUD OF?

The piece I'm most proud of is the 'two-in-one pendant we made for Marcus Rashford. It is a small pendant that sits into a big pendant. It's the first in the world & we have another groundbreaking pendant that's coming soon.
WHAT'S THE MOST SOMEONE HAS SPENT ON JEWELLERY WITH YOU GUYS?


The most someone had spent on jewellery was in the 6-figure region, I can't remember the specific amount and I wouldn't tell you the exact number, but we make jewellery for a lot of athletes & when they buy, they spend quite a lot.
CAN YOU TELL WHEN SOMEONE IS BUYING AN ITEM OUTSIDE OF THEIR PRICE RANGE? WHAT DO YOU THINK ABOUT THAT?


To be honest it's difficult nowadays. There are clients that will come in that you might think 'this person wasting my time', or they're lying about coming back, but 8/10 times the client gets something. When you're going to a jewellery store, it's not like going to a clothing store, a lot of people have an idea of what they want and a budget they want to spend so they do a bit more research.
WHO HAS BEEN THE MOST CREATIVE CLIENT/WHAT HAS BEEN THE MOST CREATIVE PIECE YOU GUYS HAVE DONE?


I would say our most creative client is Tiemoié Bakayoko & the piece that we made for him was an elephant with his name in the middle & his number on the trunk, the elephant also has his country flags in its eyes - Ivory Coast & France.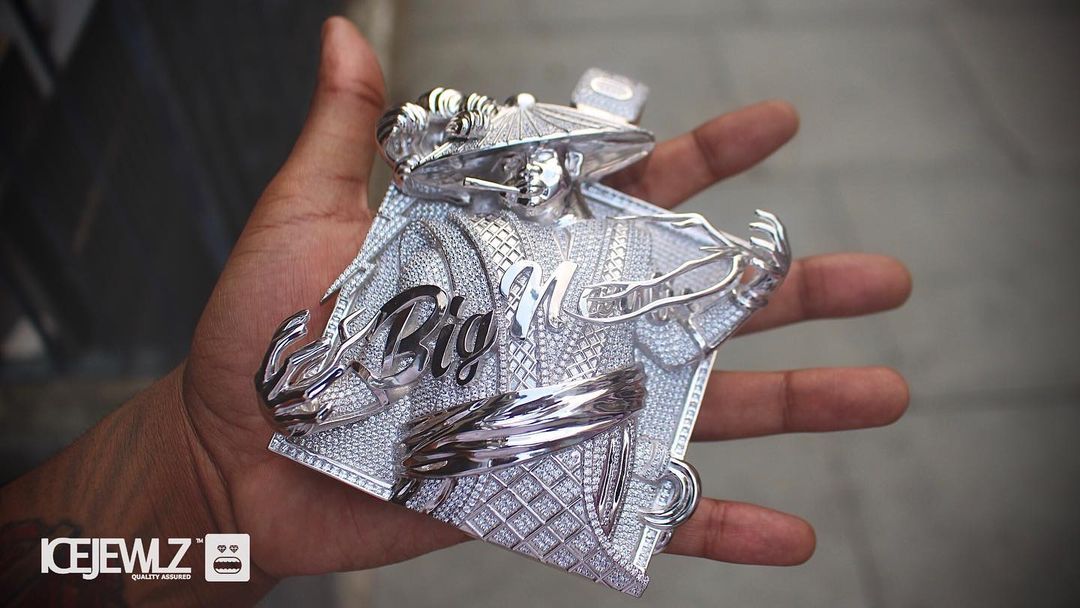 AT WHAT POINT DID YOU DECIDE TO PURSUE MUSIC AS A CAREER?


I decided to pursue my music career when I started to get a lot of assurance from people around me. Before I started to release music, I would record something and rap it back to people to see what they think, people of all different ages. When I was getting a solid response, I knew it was time to pursue it.
HAS MUSIC ALWAYS BEEN SOMETHING YOU HAVE WANTED TO WORK ON?


Music is something I've always loved even before I knew I could rap. I would always listen to music when I was younger, like 3-4 years old - this is coming from my parents, it's always felt like something I needed to do & work on.
DO YOU REMEMBER YOUR FIRST SONG? DO YOU REMEMBER THE NAME? WHAT WAS IT ABOUT?

The first song I actually remember writing, I think I was about 13-14. I believe I still have it on my phone because I had an iPhone at that age & I always backed it up. Lol. Even back then I was writing about the things I write about now and that's my life and the things I'm around.
IS IT EASY TO BALANCE BOTH YOUR BUSINESS AND MUSIC?


I'll be lying if I said it was too hard but it could be easier with my work, I hardly have free time, I might have to meet clients in another country or in a city up north & sometimes I'll be working 24hrs. If I had a normal 9-5, it would probably be easier, but I still make it work.
WHAT DO THE NEXT FIVE YEARS LOOK LIKE IF EVERYTHING GOES TO PLAN?

If everything goes to the plan the next 5 years will look like headline shows, awards, charting number 1, touring, modelling, owning my own label plus more & all of these ain't difficult to get to I just need to focus & not get distracted.