Supplying skateboarders since before you were born.
Although you may not recognise the name, Pierre-André Senizergues is definitely one of skateboarding's most influential figures. His journey began when he started skating at the age of 15, but it was only when he moved from France To Los Angeles, that he became a professional rider. Following this, he became one of the world's premier freestyle skateboarders of the 1980's – winning two World Cup titles and one World Championship.
In the early 90's, Pierre started working for etnies, utilising his skateboarding knowledge to design multiple staple models. However, after finding success with his designs Pierre took things up a notch, not only did he found éS, Emerica and ThirtyTwo, but he bought out etnies and consolidated them all under Sole Technologies.
Since then he has won a multitude of business awards for his entrepreneurship and still works around the clock to develop the next skateboarding technologies. We had the chance to throw some questions over to Pierre, this is what he had to say...
What does your workday consist of now?
I wake up at 3:00 a.m, get coffee, text, check e-mails and Instagram, see what's happening in the world. I typically spend some time on Instagram checking out people skating. Around 6:00 a.m, I jump into the car to head to the office. On the way, I listen to KCRW 89.9FM to find out the news of the world before I get on a meeting with our European team. My meetings typically don't stop until 7:00 p.m. After that, I swing by the etnies skatepark on my way home, talk with the staff there to exchange ideas and hear what's going on. I finally arrive home and get to spend time with my kids before they go to bed.
How does your current workday compare to your time as a pro skater?
As a pro skater, I used to wake up late, go skate and party late with friends. That's the big difference. The only real thing that is similar to my days now is that back then I was always trying to think about a new trick and working through it. Today, I'm trying to always figure out a new shoe design, how to ship product or tackle a business issue differently. In life, you always have a challenge in front of you – skateboarding taught me a lot of things that I use today.
Who are your top three favourite skaters and why?
That's a very hard question as skateboarders are all different and all contribute so much to what our industry looks like. But when I think twice, I would have to say Rodney Mullen, because of his genius in inventing new tricks. Natas Kaupus, because he was one of the original pioneers of street skating. Tony Hawk, because of what he's brought to vert skating.

I can't just keep it to three, so I'm just going to share a few more. Skaters like Christian Hosoi, for his style and powerful type of skating. Mark Gonzales, for his artistic and creative approach to riding. Sal Barbier, a master of style and has a great view of design and how to design a cool shoe. I could keep going on and on, but I'll stop.

What's your proudest career moment and why? (As a skater and entrepreneur)
Riding for Sims Skateboard, which was my favorite brand in the 70s and 80s. It was the best brand in my opinion and was started by Tom Sims, a pro skater who was definitely a trail blazer for skateboarding and snowboarding. Being able to represent a brand that was authentic, with great design, great innovations, great graphics, great products and a great team made me proud.
Prior to 1985, Americans were mostly winning the World Champion Skateboarding title, yet, skateboarding was huge in Europe and part of a strong culture. To be one of the first Europeans to receive the World Champion title was one of my greatest honors.
From the business side of my career, I received the great honor of being named Entrepreneur of the Year in Orange County, California by Ernst and Young. For me, to see a skateboard company receive respect from the business community was an accomplishment that I didn't expect, but was so meaningful to me and to my entire team who made our company a success.
Creating the first joint venture between a city and a skateboard company, which resulted in us launching the etnies Skatepark of Lake Forest was an incredible feat. It was the largest skatepark at the time sitting at 70,000 square feet. Now, over 75,000 people visit it annually for the last 18 years.
I care deeply about the environment and to be able to change the culture of Sole Technology to be focused on reducing our footprint and impact on the planet was a major accomplishment. We have been carbon neutral since 2015 and are carbon negative now. Our team is committed to taking care of our planet – the only place we can ride on – we will continue to nurture it for generations of riders to come.
Lastly, with all of the accomplishments over the years, I am compelled to give back. For the past 23 years, we have given over 50,000 pairs of shoes to the homeless on Los Angeles' Skid Row. We often go in person, I couldn't be prouder to personally give a pair of shoes to someone who so desperately needs a new pair, to help ease some of the burdens they carry each day. It's what this life is about – you make a life by what you give.
What's the biggest challenge when it comes to running such a large conglomerate of companies?
My biggest challenge is definitely competing with the largest footwear brand in the world when they came into skateboarding. I had to face them while staying privately-owned and skater-owned, which I remained committed to because we get to be free and are able to do what we feel is the right thing to do for skateboarding.
What's your favourite aspect of the footwear and apparel industry and why?
Being able to create products that we can use to ride and that represent who we are. We have been able to create shoes that evolve as we are constantly striving to deliver something better each time for skateboarding.
What's your least favourite aspect of the footwear and apparel industry and why?
My least favorite part of the industry is dealing with the operations versus the product and marketing, which is way more fun. With operations, there's no way to avoid needing to learn it as it's the backend that backs up all of the creative ideas ensuring that we can make them into reality. It's a necessary evil in many ways. Thankfully, I have an awesome team that makes it as fun as possible.
Are there any skaters (or athletes in general) that you have your eye on when it comes to sponsorship?
We just had Go Skateboarding Day at etnies skatepark on June 21. For me, it's always incredible to see Chris Joslin skate and see the flip trick he's doing off the banks. Matt Berger, who is in the Olympics this year, was killing it. Trevor McClung is amazing too – he always makes it look so easy and effortless, but what he's doing is actually very difficult.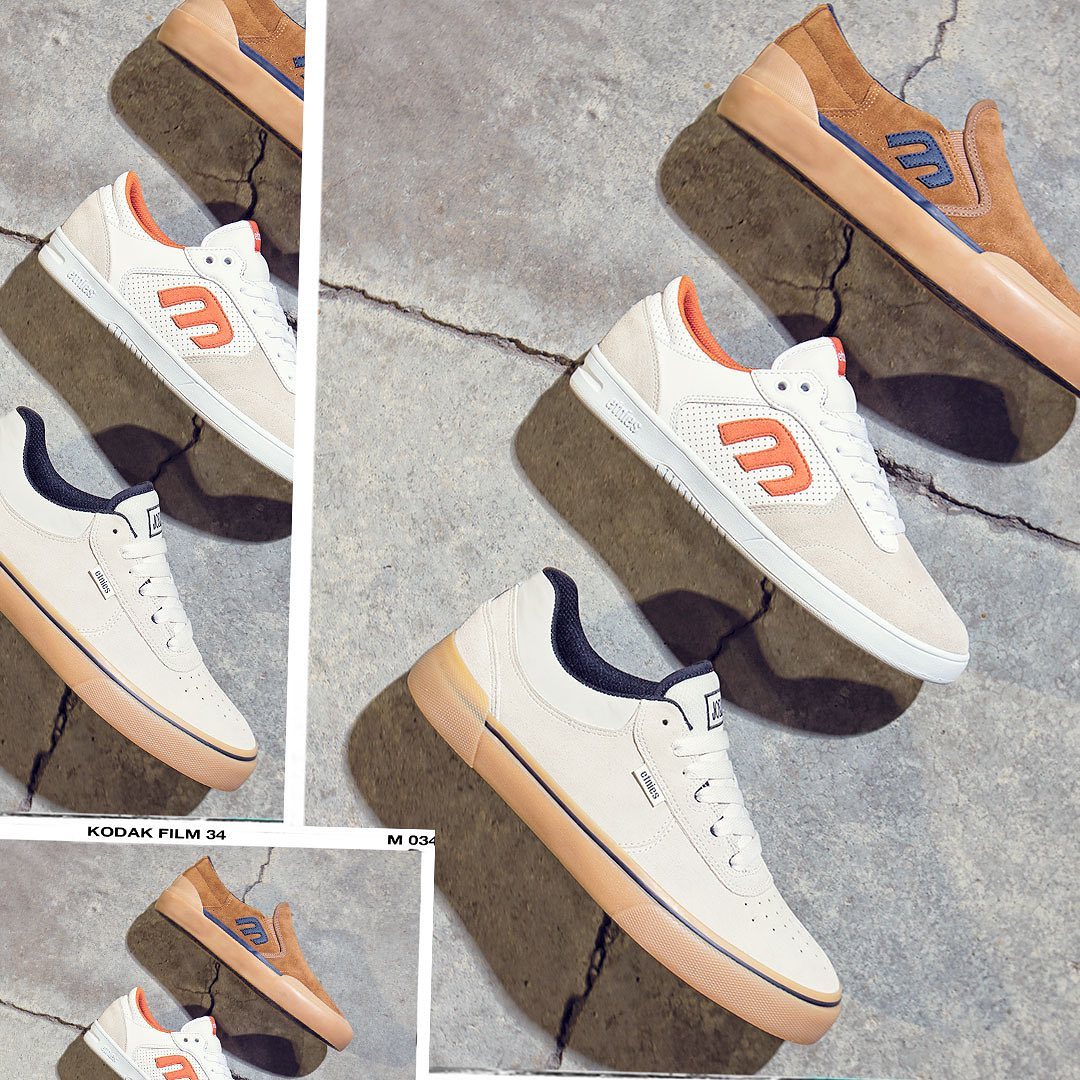 What does Sole Technologies have in store for us in the future?
I'm really excited about our continued exclusive partnership in skateboarding with Michelin collaborating on our Marana and Chris Joslin collections with etnies. This collaboration allows us to make skateboard footwear that lasts 3-5 times longer. This is every skateboarder's dream – to have long-lasting shoes! We're pushing the bounds of performance with our mountain bike collection with the help of Braden Semenuk and Emile Johansson, there will be a lot of exciting things coming from this section of etnies.
And, of course, Jeremy Jones with his Sultan SC and Jameson HTW shoes provide a great winterized collection as we enter into the fall season. You may have heard the news that the legendary skateboarder, Tom Penny has returned to éS. For me, Tom represented the beginning of modern street skateboarding and brings with him a legacy that we all can benefit from as we build the future.
And…coming to the market now, vegan product lovers can check out an expanded collection of éS vegan shoes.
From freestyle and vert to street-skating and the Olympics, skateboarding has changed a lot. What do you think of skateboarding's journey and what do you think its future looks like?
For most of my life, skateboarders have been seen by neighbourhoods, businesses and cities as troublemakers. It's hard for us to be recognized for the contributions we bring to our communities and the excellence that many people have achieved. With the debut of skateboarding in the Olympics, I can't help but feel a sense that FINALLY, justice will be made and people will respect skateboarding for the enormous efforts of creativity, passion, commitment and perseverance it takes.
As a skateboarding community, our camaraderie is admirable and the values we carry as skateboarders can inspire the world. While this event is only every four years, this type of global recognition will just amplify our mission to build our skate culture every single day, hour, minute and second!