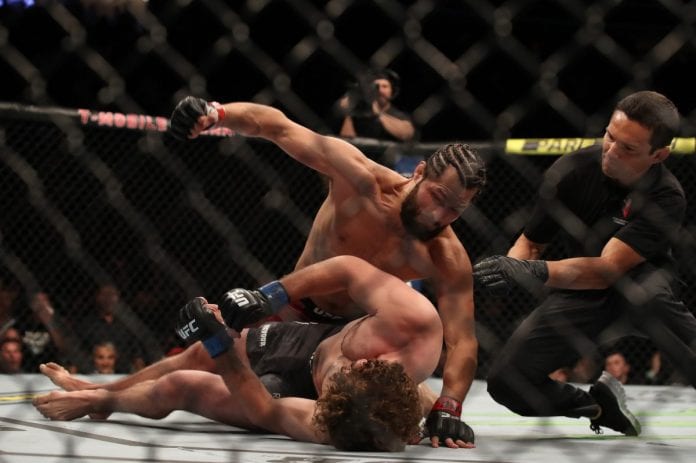 The American mixed martial artist that is Jorge Masvidal just recently broke a world record for the fastest knockout time ever seen in UFC. The final blow arrived within just seconds of his big fight at UFC 239.
As for the specifics, Jorge was coming up against Ben Askren, a fighter who up until the match was successfully winding Jorge up. Consequently, before the fight, Masvidal promised Ben Askren that there would be brutality, I guess Jorge Masvidal is a man of his word because that's exactly what everyone saw.
The knockout took place at the T-Mobile Arena in Las Vegas, with the crowd having to wait just 5 seconds for Jorge Masvidal's knock-out flying knee to the head. However, this wasn't just down to quick reactions and a brief opportunity, in fact, Masvidal stated that in putting his arms behind his back he was trying to lure Ben in, something which worked exactly as planned.
Shortly following the knee wee saw Jorge come through with a couple more heavy blows to Askren's face, this was before the referee had to step in and officially recognise Ben's first UFC defeat.
Watch the moment below.
JORGE MASVIDAL WITH THE FASTEST KNOCKOUT IN UFC HISTORY

5 SECONDS AND ITS OVER FOR ASKREN#ufc239stream @GamebredFighter #ufc #ufc239 pic.twitter.com/5mnYvYA0tz

— Second Deck Sports (@2nddecksports) 7 July 2019
Well that sucked

— Ben Askren (@Benaskren) 7 July 2019
In five seconds, Jorge Masvidal (@GamebredFighter) records the fastest knockout in @UFC history. #UFC239

The previous record belonged to Duane Ludwig with his 6-second KO. pic.twitter.com/cKLFqFu6uh

— UFC News (@UFCNews) 7 July 2019
---
our latest podcast episode...