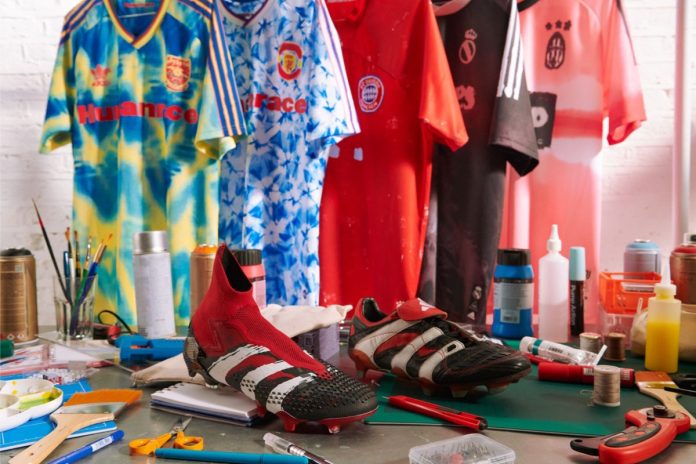 Adidas football have unveiled their latest collaboration, with none other than Pharrell Williams. The producer, designer, and rapper has designed Jerseys for some of Europe's biggest clubs. 
Williams has designed the shirts for Arsenal, Bayern Munich, Juventus, Manchester United and Real Madrid – looking into the club's history and reimagining some of their classic kits, with a hand-painted look. For Arsenal, their 1990 away "Bruised Banana" kit, has been redesigned with a tie-dyed, psychedelic look. The 1991-93 Bayern Munich home kit, Juventus 2015/16 Pink Home kit, Manchester United 1990-92 blue snowflake kit and the Real Madrid 2014-15 kits are also available in the collection.
As well as these kits, Pharrell and Humanrace also designed two jerseys for the London-based community team, Romance FC. When asked about the Romance FC partnership, the Adidas Football design director said, "In this case we drew inspiration from one of the most loved adidas shirts of all time, worn famously by Holland in '88 and Germany in 1990 on their away shirt. We took the design into a new territory by creating it in this looser and fluid way, then created it in a unique colour for Romance FC, playing with dark colours predominantly and accents in fluro to give a sporty and performance feel that is equally at home on the street."
Arsenal, Manchester United and Real Madrid will be wearing their designs as pre-match jerseys from October 24th; while Juventus will sport its kit in-match on October 25 and the Bayern Munich design will make its debut during the club's next knock out game.
All kits are available to purchase now from the Adidas web store. You can check them out below and be sure to subscribe to our newsletter to never miss a drop date.