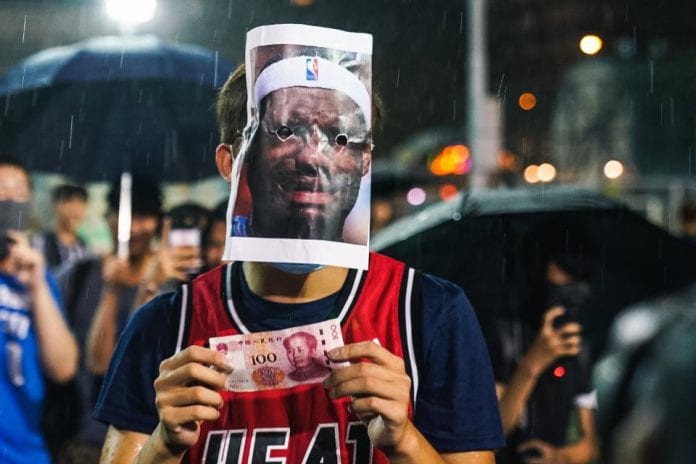 This week has been a complicated one for those in the National Basketball Association, as for why, the whole controversy started when the Houston Rockets general manager, Daryl Morey, sent out a tweet that was pro Hong Kong. This obviously pissed off the officials in China who are trying to expand the communist country's influence and slowly contain the people of the currently-independent state.
This subject is, of course, far more complicated, with numerous demands, injuries, gun-shots and leaders playing a role in escalating the whole situation. However, one thing is undeniable, the manner in which the Chinese government is handling the situation would be far from what anyone would call fair.
For example, just recently Jimmy Sham, the leader who most commonly protests for LGBT rights and spearheads the Civil Human Rights Front, was on his way to a meeting when he was attacked by four men armed with hammers. This was the second time in two months that the activist has been seriously assaulted, and although the attacks haven't been officially tied to any governmental body, it's not like that's out of the realm of possibility. In fact, censorship is awry in China and with around one million Muslims currently being held in "re-education" camps right now, this kind of act would be child's play for those in power.
Anyway, all of this does come back to the NBA and Lebron and the context is important, the previously-mentioned tweet made by Daryl Morey read: "Fight for Freedom. Stand with Hong Kong." Since this tweet was made, all of China's business with the NBA has become at risk of being cut, and since the entire US population is less than those in China who play basketball, it's the biggest business they could lose.
Lebron spoke out after the tweet, saying that although Morey had the right to say what he said, "freedom of speech does have negative consequences" – something which does kind of rub salt in the wound of those currently fighting for free speech in Hong Kong.
However, that's not the only reason people are mad at him, others have gone on to state that for someone who has been so concerned with police brutality in the US, he has fallen too silent when it comes to fighting the police brutality and oppression that is so common in the largest population on Earth.
Obviously, people have put his and the NBA's lack of action down to the fact that this kind of activism will impact their profits and bottom lines. However, the internet reacted accordingly to this, while shows like South Park have already poked fun at Lebron for his seemingly hypocritical actions.
What are you're thoughts?
1. Producer and activist Andrew Duncan bought 300 tickets to tonight's Nets vs Raptors game and is hosting hundreds of Chinese pro-Democracy activists to protest the NBA.

They're all wearing "Stand With Hong Kong" t-shirts pic.twitter.com/pIcUwSLaPB

— Yashar Ali 🐘 (@yashar) October 19, 2019