After Tiger Woods' iconic comeback last month, the renowned American professional golfer has been honoured with one of the most substantial medals a civilian can receive in the US.
Specifically, following Woods securing his fifth Masters title along with his 15th major, the sportsman arrived at the White House's Rose Garden on Monday where he would receive the Presidential Medal of Freedom. While there, Tiger stood alongside his mother, two children and girlfriend Erica Herman, as well as his longtime caddie that is Joe LaCava.
As for what the medal is handed out for, the White House declared that it is presented to those individuals who have made "especially meritorious contributions to the security or national interests of the United States, to world peace, or to cultural or other significant public or private endeavours." Well, there is no denying Woods has impacted culture with his numerous achievements, maybe most notably becoming the first African-American Masters winner – as well as the youngest while he was at it.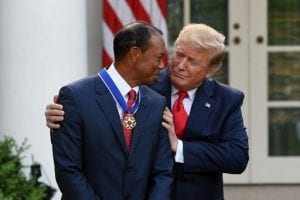 This has now become the fourth time the award was handed out to a golfer, however, Woods has been youngest. While carrying out the presentation, Donald Trump stated: "This evening, we are in the presence of a true legend, an extraordinary athlete who has transformed golf and achieved new levels of dominance," adding: "He's also a great person. He's a great guy."