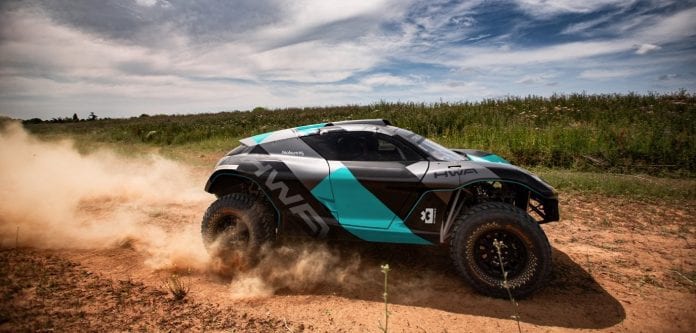 Extreme-E is not just about awesome looking, 4-wheel drive electric vehicles racing against each other across iconic scenery. It's ultimately about helping to save the planet. The 5-race global challenge – spanning 4 continents – taking in some of the world's most demanding terrain is aiming to highlight the impacts of human activity on planet earth's eco-systems.
Getting from race to race is down to Extreme-E's floating garage, the St. Helena, which is now at sea heading for the championship's inaugural race weekend on 3-4 April in Saudi Arabia. Leaving Liverpool just days ago, UK by Extreme E Founder and CEO Alejandro Agag said: "Today I feel extremely proud. The departure of the St. Helena marks the start of her new voyage. Extreme E's first season is now officially underway."
The St. Helena cargo consists of the race fleet of electric vehicles (ODYSSEY 21), tents for pit stops, the podium, the start gantry, TV and broadcast equipment, machines to turn plastic waste into the championship's trophies as well as a hydrogen fuel cell set-up for zero-emission car charging.
Each location will be used to highlight a global environmental issue with the five 'themes' being Desert, Ocean, Arctic, Amazon and Glacier. In Saudi Arabia, home to the world's largest continuous sand desert, Extreme E aims to raise awareness of the environmental consequences of 'desertification' – where increasing temperatures, deforestation, overgrazing and unsustainable water use all contribute to the degradation of the environment. The focus of the second race in Senegal on 29-30 May, will be our oceans – half of the coral reefs have already been lost, fish stocks are on the point of collapse whilst plastics and oil spills are contaminating food chains. In Greenland, on 28-29 August, it will be the melting ice caps. The final races will be in Brazil (October) and Argentina (December).
As for the cars, they are all the same: battery-electric, 400kw (550hp), 1650kg, 2.3-metre wide, niobium-reinforced steel alloy tubular frame and roll cage, capable of firing from 0-62mph in 4.5 seconds. They are all made by Spark Racing Technology from a common package of standardised parts with a battery produced by Williams Advanced Engineering and all using Continental Tyres.
There are 10 teams in all coming from Germany (ABT Cupra XE and Rosberg Extreme), Indonesia (Team Techeetah), Spain (Acciona Sainz and Hispano Suiza Xite), the US (Chip Ganassi and Andretti United) and the UK (JBXE, X44 and Veloce Racing).
Team X44 – named after his number – has been formed by 7-time F1 World Champion Lewis Hamilton, whilst JBXE is the creation of Jenson Button. Other ex-racing greats also feature including legends Michael Andretti and Carlos Sainz.
The drivers' programme has been designed not only to promote professional drivers but also lessor known personalities and teams can select from the 'pool' or from outside. Amongst the named drivers are Billy Moger, Nelson Piquet Jr and Bruno Senna.
The series promises to be a fantastic spectacle, and in a year after a pandemic, bring much-needed attention to how we are screwing up the planet.
Take a peek at the action… and watch this space for race updates as they come in…..