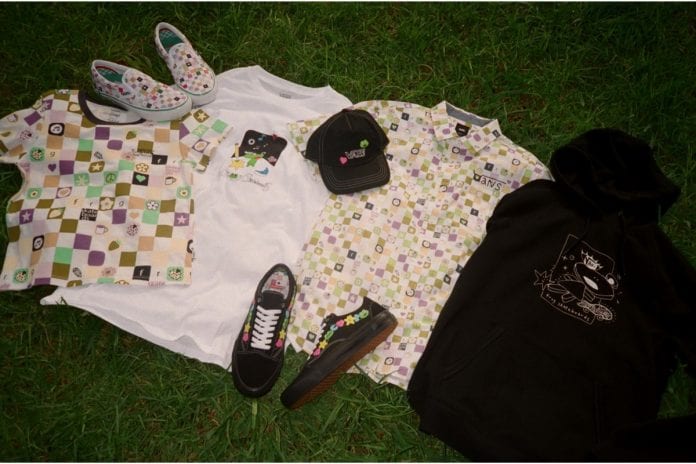 Vans have announced they will be collaborating with Frog Skateboards in a new, fun-loving collection of clothing and footwear. The series is led by a playful take on the Vans Old Skool and Slip-On shoes and is followed up by apparel centred around Frog Skateboards' ethos, having fun and being inclusive.
The Old Skool opts for an all-black construction with white contrast stitching; acting as a blank canvas for the colourful embellishments that can be expected. A collection of pink, yellow, blue and green silicone charms consisting of frogs, stars, moons, hearts and more replace the usual white jazz stripe. The Slip Ons feature a multi-coloured checkerboard design with small graphics in some squares. Frogs, ladybirds and cups of coffee can all be found on the shoe, sitting above a green foxing stripe, and a white midsole.
The apparel consists of four pieces. A short sleeve t-shirt, button-up shirt, water-resistant hoodie, baseball cap and a women-specific tee. The button-up shirt and short sleeve tee both replicate the graphic found on the Slip-On shoe; whilst the hoodie opts for the graphic on the Old Skool's – with a line drawing printed the front and vibrant charms printed on the back.
The Vans X Frog Skateboards collection will be available on the Vans Website and selected retailers from February 28th, 2021. You can check out the collection and promotional video below and be sure to subscribe to our newsletter to never miss a drop date.