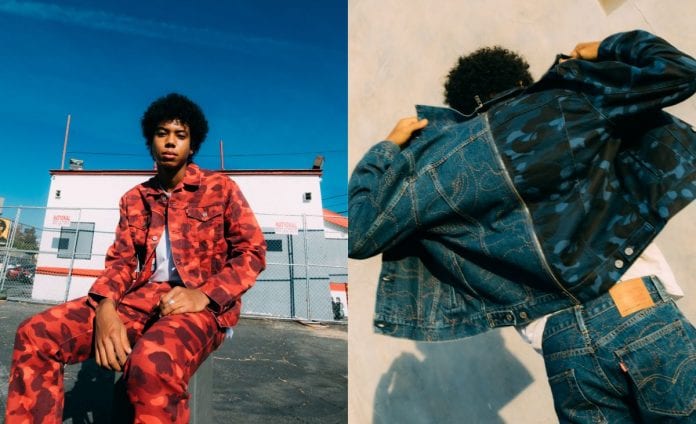 Although it may feel like the Spring/Summer seasons are an eternity away, Levi's have announced a new collaboration with none other than Japan's A Bathing Ape.
As for what to expect for Spring 2021, the street-suitable duo is bringing playfulness and allure to the third instalment of the Levi's x BAPE collab. The first two took place in Dubai in the December of 2019 and Miami in March 2020, both of which featured revamped Levi's Type III split trucker jackets.
Specifically, BAPE's instantly-recognisable camo prints and ape head logo made their way to various Levi's-constructed garments. Consequently, a combination of stark aesthetics and reliable builds has been made. For this global launch, five Levi's x BAPE split trucker jackets are going to drop, they feature the same re-imagined half-and-half construction as the previous four that dropped in Dubai and Miami.
This means that if you happen to have more than one of their collaborative jackets you can mix and match them via the functional zip on the back. All in all, this means that those who have gone to the lengths of copping all nine jackets will have the option to create 70 unique Levi's x BAPE jacket combinations. The global collection also includes the Levi's x BAPE western shirt, bandana and a 6-Panel Cap
Take a look at the Levi's x BAPE global collaboration below. If you like what you see then sit tight as the offerings will be dropping at 11am on the 23rd of January. The range will be available exclusively via the Levi's 247 app with prices ranging from £55 to £230.