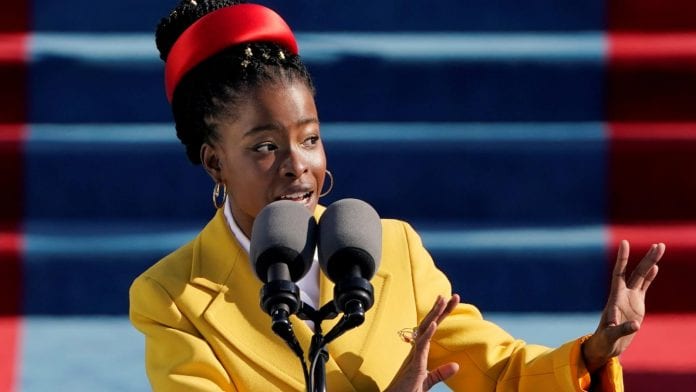 Amanda Gorman became the youngest poet ever to perform on a presidential stage when she called for "unity and togetherness" at President Joe Biden's inauguration.
Amanda Gorman was born in Los Angeles in 1998 and had a speech impediment as a child – an affliction she shares with America's new president. She became the country's first National Youth Poet Laureate in 2017 whilst studying sociology at Harvard. "When you have to teach yourself how to say sounds [and] be highly concerned about pronunciation, it gives you a certain awareness of sonics, of the auditory experience." She published her first book, The One for Whom Food Is Not Enough, in 2015 and will publish a picture book, Change Sings, later this year.
In her inauguration poem, she described herself as "a skinny black girl descended from slaves and raised by a single mother [who] can dream of becoming president, only to find herself reciting for one."
"I think it's about a new chapter in the United States, about the future, and doing that through the elegance and beauty of words." This is what she read before going on to present the rest of her beautifully paced, well-judged poem. It's safe to say that her contribution to the inauguration will live long beyond the time and space of that moment.
The 22-year-old delivered her work 'The Hill We Climb' to both the dignitaries present in Washington DC and a watching global audience and there is little doubt that her words will resonate with people the world over. Not only today, tomorrow, and far into the future – though they may be lost on one recent resident of Florida.
Her poem began with a question: "When day comes, we ask ourselves where can we find light in this never-ending shade?" She went on to reference the storming of the Capitol precisely two weeks before the inauguration as "… a force that would shatter our nation rather than share it, would destroy our country if it meant delaying democracy." "And this effort very nearly succeeded. But while democracy can be periodically delayed, it can never be permanently defeated."
She ended with a rather telling line that threw down a challenge to the US and beyond "… for there is always light, if only we are brave enough to see it, if only we're brave enough to be it."