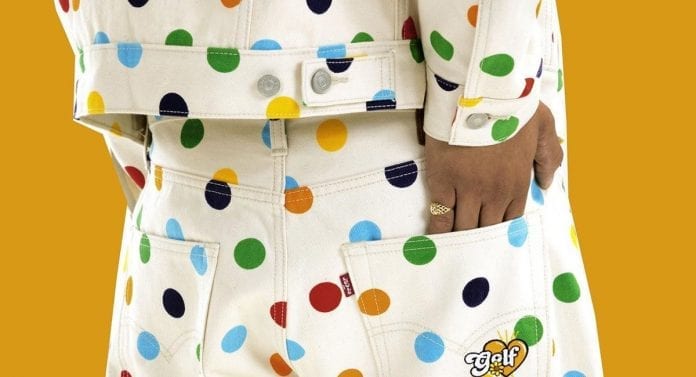 As a way off celebrating Levi's iconic 501 jean, the renowned denim brand has looked to collab with none other than Tyler's very own brand, GOLF WANG.
As for what the project consists of, a pair of denim jeans and a trucker jacket arrive both with a stark summer-ready polka-dot pattern. Specifically, the GOLF WANG x Levi's collab draws inspiration from a rainbow polka-dot jean that Tyler created for GOLF WANG's 2016 runway show.
At this point it makes sense for Levi's to provide the denim for the most ideal garment base for the revamp. Not only this, but to stay true to Tyler's prefered loose fit, Levi's straight leg, vintage-inspired 501 '93 denim jeans were specifically chosen to rock the design while dual branding from Levi's and GOLF make an appearance in the form of a limited edition patch.
Take a look at the GOLF WANG x Levi's collab below, if you like what you see then you're in luck as the collection is set to drop on the 20th of May via Levi.com, GOLFWANG.com, and the Levi's app.