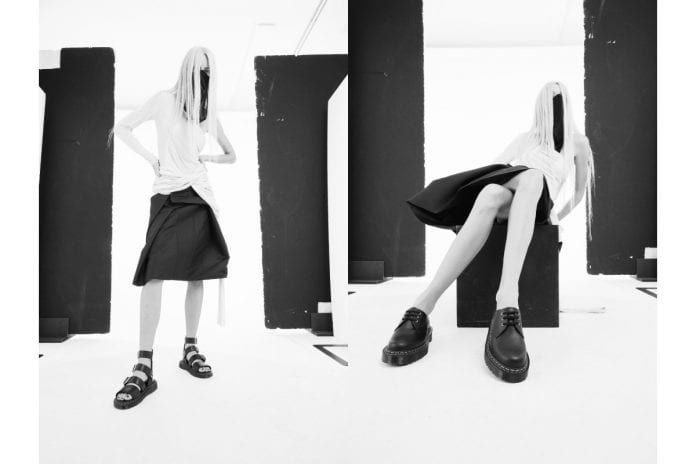 Dr Martens has teamed up with American fashion designer, Rick Owens, in a multi-drop collaborative series. The first portion of the collection was released back in March and we will be getting a second dose this month. 
Drop two sees the release of the 1460 Bex platform silhouette, Gryphon sandal and the 1461 Bex DS. Each shoe displaying Owens' background in eccentric, architectural design. The 1460 Bex is adorned with Owens' Pentagram lacing and sports a pearl suede upper. Tonal 2.5-metre laces complete the look as well as, Dr Martens Bex sole.
The Gladiatorial inspired Gryphon sandals have been built using tough, black smooth leather. The Gryphon Strap RO stands on a custom width smoke shore sole. Finally, the 1461 Bex is Owens' take on a Dr Martens classic. The upper is made with Black Smooth leather and is stacked on a Smoke Bex sole, finished with a distinctive Yellow and Pearl double welt stitch. The shoe is also debossed with Owens' DEEPER THAN A MOTHERS TEARS motif.
The Dr Martens X Rick Owens Second Drop will be available from May 8th, 2021; from the Dr Martens Website. You can take a look at the collection below and be sure to subscribe to our newsletter, to never miss a drop date.