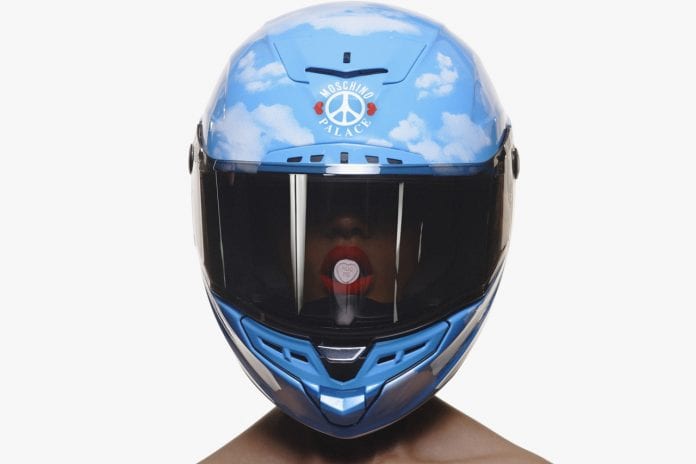 Palace Skateboards surprised a lot of streetwear fans recently as the London-based brand announced a collaboration with Moschino. The duo, which seemingly came out of nowhere, has produced one of the most extensive and colourful lineups Palace has readied.
As for what to expect, Palace appears to be paying tribute to the luxury fashion house's long-running history within the industry. Consequently, the collection consists of every colour imaginable, graphics, dual branding and tongue-in-cheek designs. Most notably the range boasts two shearling jackets in brown and white, both of which feature "hug me" on the back with handprints to match.
Apart from this, expect dreamy skies to inspire jerseys as well as puffers, with the latter arriving in "Cloud Blue" and "Orange Sunset" to be precise. Elsewhere in the collection, we see a set of logo-printed T-shirts, stark abstract shirts, bold bucket hats and all-over branded denim jackets with the pants to match.
Alongside the apparel comes a range of accessories, such as scarves inspired by football, the sport that both Italy and England love the most. As you would expect, skateboarding wheels and decks add the to the range, as does a faux milk carton bag. However, the most significant accessory could well be the blue cloud-patterned Bell motorcycle helmet.
Moschino's creative director, Jeremy Scott, had this to say about the partnership: "I was happy to collaborate with my long-time pals at Palace to create this collection full of peace, love and hugs." Palace, on the other hand, said: "Moschino is one of our favourite brands of all time: chic, sexy, innovative and properly funny." "Working with them has been a full-blown dream scenario for us and we are still buzzing on it."
Take a look at the Moschino x Palace collaboration below. If you like what you see then head over to either Palace or Moschino's online stores on the 20th of November at 3 pm GMT. Japan and China will receive the collection a day later, on the 21st.