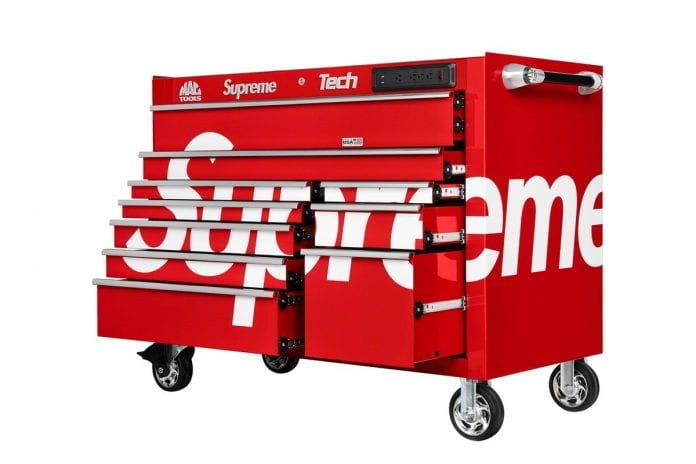 Supreme recently took to their official Instagram account in order to share more details regarding their upcoming Mac Tools collab. It was something that many were curious about after first seeing the collaboration teased in the brand's Spring/Summer 2020 preview.
Interestingly, the less-than-traditional streetwear accessory comes in the form of Mac Tools' T5025 Workstation model, and within the junkyard-based preview, we can see it comes covered in Supreme branding. Mac Tools pride themselves on the functionality of the T5025, it's a double-bay workstation that features an extra-large top that includes 3" x 5" sliding drawers. As well as this, expect 6" caster wheels to carry the whole station while an integrated power strip provides electricity for any power tools you may use.
As you can expect, Mac Tools left it up to Supreme to make the aesthetic choices. Similarly to previous seemingly low-effort collabs, the whole product has been covered in Supreme's distinct red shade while the skate brand's logo wraps around the whole of the box. If you are wondering what this collab will set you back, it's likely going to be in the range of $6,000 – approximately £5,000.
Take a look at the Supreme x Mac Tools collab below, if you like what you see then why not sign up to our newsletter to be the first to know the product's release date?