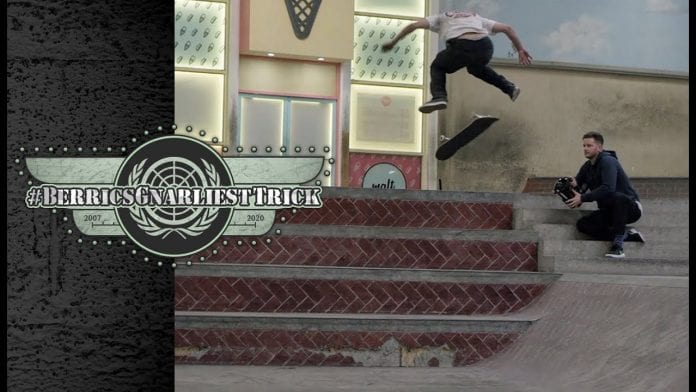 Back in September of 2018, Yoshi Tanenbaum became the first amateur to premiere his Recruit video go pro at the same time. This, of course, attracted a lot of eyes within the skate community and rightfully so.
Less than two years later and Tanenbaum has nabbed The Berric's gnarliest trick award for a trick he landed all those months ago. Specifically, the trick in question was his disgusting gazelle flip, also known as a big spin flip 360, on the iconic skatepark's Big-4/LA High Bank gap.
In a 4-minute video discussing the iconic moment Tanenbaum stated that the pressure was on given: "Everyone's done so much crazy sh*t [here]." However, after thinking on what he could "bring to the table," he chose an insane cab flip first, before returning to put down the previously mentioned gazelle flip.
"For me, I had to do that. Even if someone else did it, I probably would've still come and done it, because in my mind that's the trick." Watch the video below to watch the moment and hear Tanenbaum and The Berrics' Chase Gabor look back on the trick and its significance.