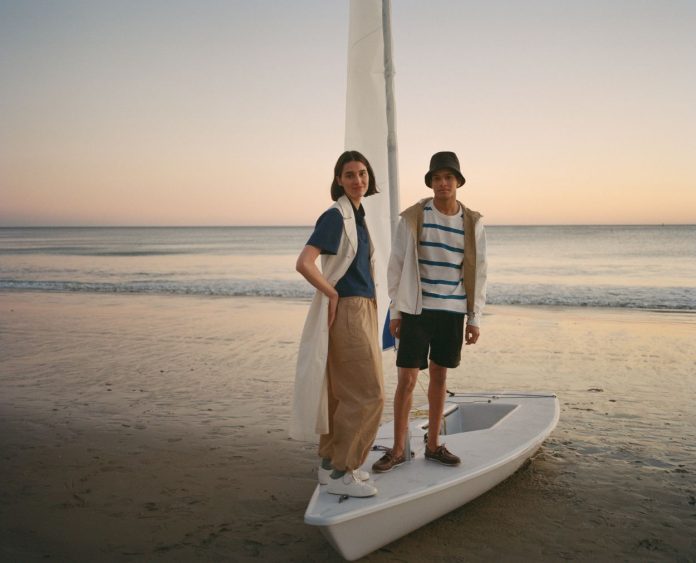 The Japanese casual wear designer, manufacturer and retailer that is UNIQLO revealed their 2022 Spring/Summer UNIQLO x JW ANDERSON collection. The collection is part of an ongoing collaboration with the London-based label that has revolutionized contemporary fashion.
The rich heritage of Britain's sailing and seaside culture inspires this season's concept of 'At Home with the Sea'. The collection combines the evolving simplicity and quality of LifeWear with JW ANDERSON's playful craftsmanship. The lineup features shirts, caps, and socks with embroidered sailboats in playful hues, as well as a knot dress and yacht parkas that look great against the blue backdrops of the sea and sky.
Combining water repellency, mesh fabrics, and other functional elements that are uniquely UNIQLO with such signature JW ANDERSON elements as patchwork and asymmetry delivers comfort and design. Colour-blocking and borders add a touch of contrast and feature hues from nature, including oceanic blues, beige from the shores, and vivid reds and greens, for a relaxing seaside look.
Designer, Jonathan Anderson, says that "the sea has been integral to my life ever since I was a child. It inspired this collection, and I hope people enjoy incorporating this maritime styling in their wardrobes."
Take a look at the UNIQLO x JW Anderson collaboration below. If you like what you see then sit tight as the range is dropping on the 18th of March in UNIQLO stores as well as online.