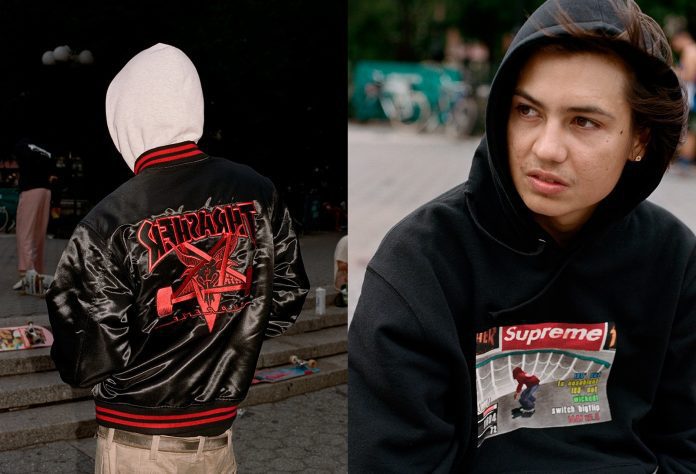 Supreme are now following up their collaboration with The Crow via a highly anticipated collaboration with Thrasher. Specifically, for Autumn 2021 the duo worked on a range of items, most of which feature dual branding or at least unusual takes on the companies' logos.
The collab isn't their first and it won't be their last, likely due to the fact that the two skate brands have a longtime relationship with each other. As for what to expect, sweaters, hoodies, polos, tees, jeans and varsity jackets make up most of the offerings, with shorts and 6-panel hats rounding the goods off.
When it comes to designs, stacked Thrashers stickers can be seen on the sleeves of zip-up hoodies, shorts and long-sleeve tees. Elsewhere, expect Thrasher's pentagram logo underscored by "SUPREME," this makes appearances on jeans as well as the previously mention varsity jacket. Last but not least, screenshots of Thrashers 1999 video game are printed onto hooded sweatshirts while reversed "THRASHER" branding can be found on knitted sweatshirts and polos.
Take a look at the Thrasher x Supreme Fall 2021 collaboration below. if you like what you see then sit tight as the range will be dropping on the 23rd of September via Supreme's online store at 4pm GMT – and via flagship locations. Japan will receive the collab on the 25th.