TRS: In three words, how have the 8 months since we last talked been like?
RG: Highs, lows, extremes
TRS: When we spoke to Stephen Ormandy in August, he said that the lock-down had not been a problem for him and his work. How did it affect you and yours?
RG: I initially found it really hard to paint during lockdown because I felt completely uninspired and I think fear prohibits creativity and I was definitely scared as no one knew what was happening and what was going to happen. Through being completely isolated though, I actually managed to create lots of work that were some of my best, and I managed to read so much as well - so maybe I needed that time to relax and bring it all down to 0 again. Also, I think because people were stuck at home, they were spending their money on artwork to brighten up their house because there wasn't anything external like nights out and restaurants. So actually, lockdown wasn't an issue like I thought it was going to be.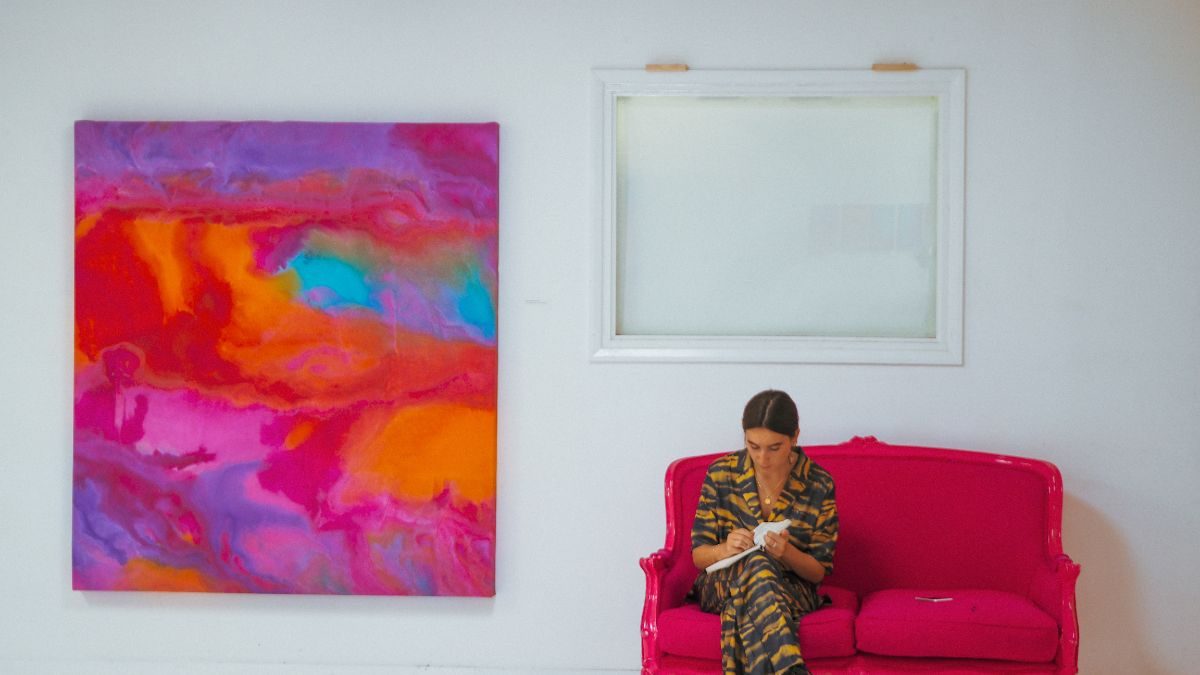 TRS: We spoke to Nick Smith in a recent podcast and he told the story of his first exhibition that –in his words - pretty much failed. How do you define 'success' when it comes to your work?
RG: I think success means something different for everyone - I mean my God, I pretty much had the same experience in my first solo show, when I was still studying in Oxford and it was a complete flop - I didn't sell anything and the turn-out wasn't great, but it's an amazing feeling thinking about that experience in comparison to how things are now.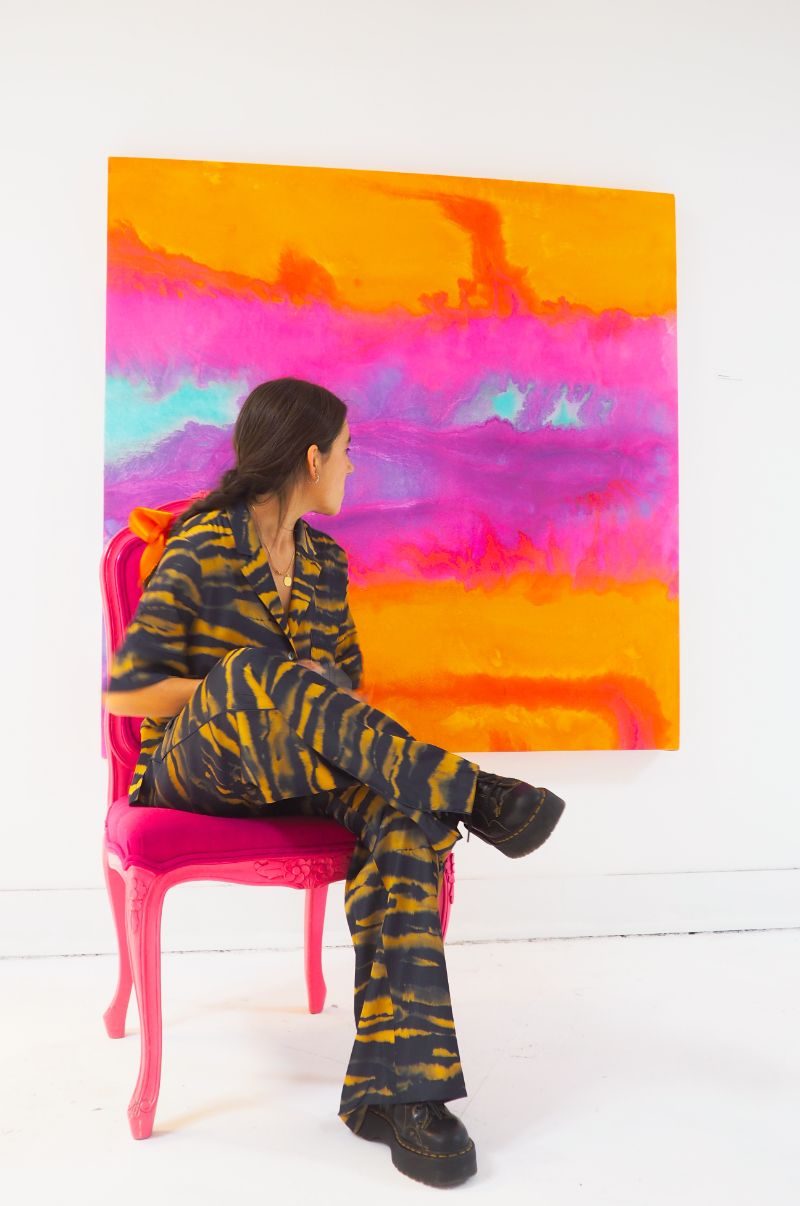 But yeah, success for me is when people come to see my work and they say that the colours have somehow changed their current state or mood, which does actually happen. I think when someone you don't know or has no preconceived knowledge of the work buys a painting. I was outside my studio having a cigarette last year and I got chatting to this lady and a few months later, she bought one of my paintings. She has since kept in touch and said that she is going to design her new home around my art as a centrepiece. For me, that's a definite success and one of my most proud achievements.
TRS: Can you imagine a world where 'virtual' exhibitions are as common-place as face-to-face ones – or do you think seeing the canvas, the texture, its size and proportions 'in the flesh' is critical to getting the most from it?
RG: Virtual exhibitions are suddenly everywhere and I have a few friends who have made their shows into virtual ones and they look great! Personally for me though, I'm old fashioned in the way that I think and I am so yes seeing work in the flesh is super important to me. You don't get the same effect and feeling through a computer screen.
I'm definitely open to the idea of doing a virtual exhibition, so that vulnerable and elderly people can see the show - but I guess it's the same as seeing your mum in person versus seeing her over FaceTime, it will never be the same - but it's better than nothing and definitely a step forward to making art accessible to everyone. It also could broaden your audience and reach people in different countries.
TRS: Sunset colours have been an important part of your work – has your palette moved on since we last spoke for one reason or another?
RG: Yes, it definitely has, I'm still using sunset colours of course even though this series I've used some deeper and darker shades of blue, green and purple.
Howard Hodgkin once said that a sunset is such a remarkable happening and touches people so deeply that it makes him want to paint them more and more. I am definitely one of those people that a sunset touches deeply so yes I still use orange, pink and purple in my work, but I'm definitely widening my colour range as time goes on.
This series is slightly different in some cases. The first painting I did from this series was inspired from a night sky and the back of a JJ Cale record sleeve. It's purple and blue.
TRS: The life of an artist is often said to be a lonely one. Do you think you need to be a 'loner' to be an artist?
RG: Yes and no, I've always worked in big shared studio spaces where it's impossible to be lonely because there are so many people working in such close proximity, which works best for me - I love it in fact. I often bounce ideas off other creatives working in the same studio as me.
On the other hand, yeah, I've always been a lone wolf as I've always had different interests from other people and I enjoy my own company more than some - I spend a lot of time researching and formulating new ideas and concepts, which you could argue is loner behaviour - I live for it.
TRS: Last time we asked where you saw yourself in 10 years and you said you'd like to be travelling the world showing your work and also getting more of your work in hospitals. Has anything changed there?
RG: There's lots I want to achieve in 10 years, I want to be doing exhibitions in established galleries and I'd love to be able to gift more work to causes such as homeless shelters and hospitals where it could make a difference to a space that really needs it. Definitely still want to travel the world at some point. I think I'd be a good art teacher one day too... maybe in 20 years or so.
TRS: What do you want people to consider or think about before visiting your exhibition?
RG: Think about how you feel before entering the room to how you feel after.
TRS: Finally, what would you say to anyone who wants to get along to your exhibition? How do they do that?
RG: If you want to come to the show, there's a really easy, brand new booking site called ARTSVP and you can book a slot directly through the button below. If everyone who wants to come could also wear a mask too that would be great! Can't wait!